Breast augmentation with autologous fat for padding of the connective tissue
Your breast consists of breast gland tissue and surrounding fatty tissue. This breast fat tissue determines the size of the breast. It is therefore obvious that breast augmentation with your own body fat offers the most natural and therefore most aesthetic result. A further advantage is that you will also receive liposuction at the same time during this operation, except that the removed fat is not disposed of, but returned after preparation.
Is fat grafting suitable for everyone?
Basically we have all fat which can be taken out. However, few patients have a very low BMI, so that not enough fat can be removed. Basically you must know that not all of the fat "heals", i.e. "survives" on the spot. Some of it is broken down and metabolised by the body. Therefore, for my breast augmentation with autologous fat, at least 2 operations must be planned. To improve the survival of the fat, there is a method to take from your own blood cells (PRP or platelets) and add to the fat like a "fertilizer". This PRP will make your breasts bigger without you having to have more than 2 operations.
Aesthetic breast augmentation or breast reconstruction?
The fat offers an excellent opportunity for natural breast augmentation but it can also do much more. If a part of the breast is missing after breast cancer surgery or the breast is severely deformed, this can be very stressful for women. Often the self-confidence to show yourself in public or in front of the mirror is missing.
There is a simple solution to correct the shape of the breast with a few small operations. For this purpose, your autologous fat tissue is removed in the same gentle manner and placed in the area of the defect. This gives your breasts a feminine shape again and at the same time makes them softer. The costs of these operations are partially covered by your health insurance. If you are interested, I would be happy to advise you in my office.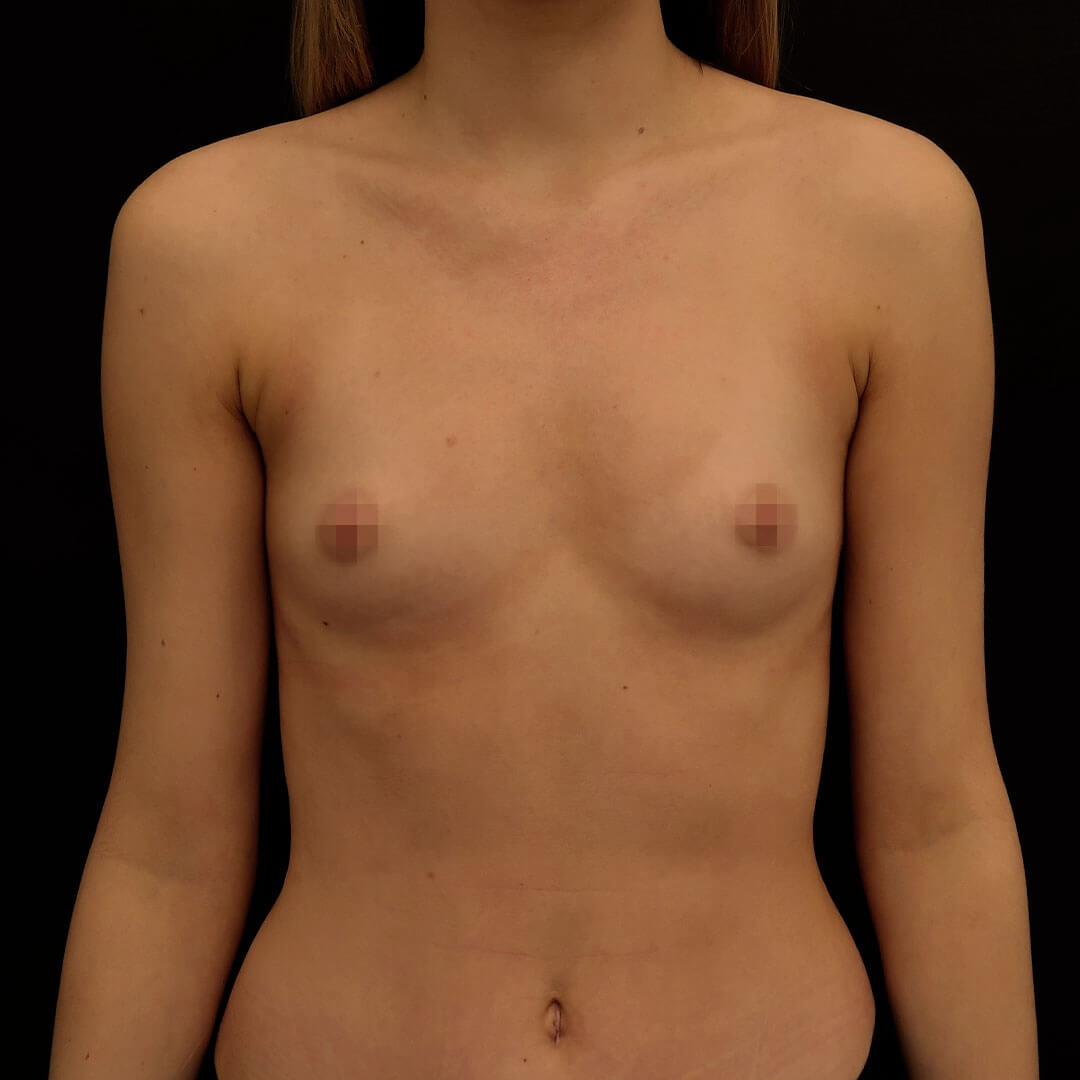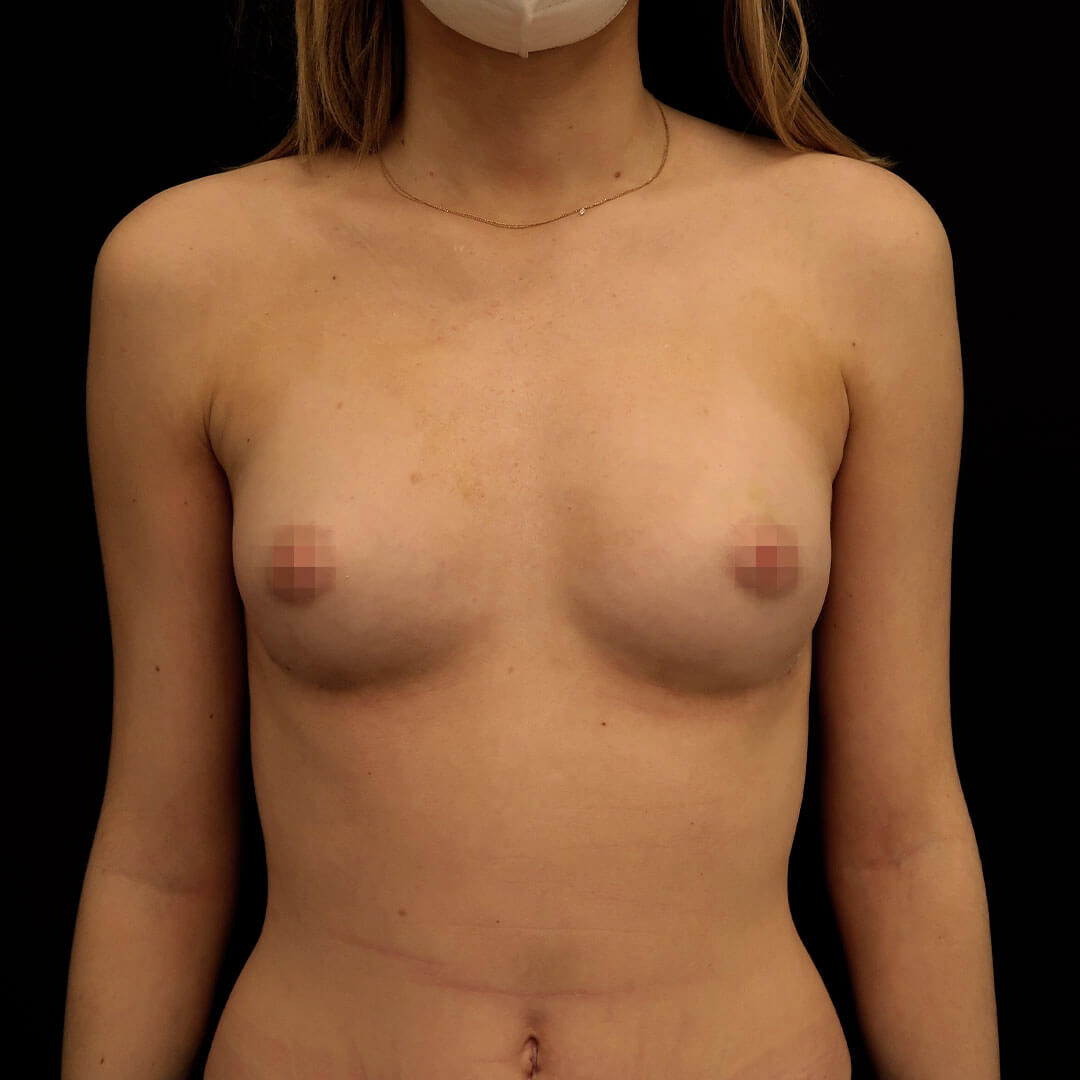 What happens after the procedure?
I usually carry out autologous fat transplants under sedation and on an stationary basis. As soon as you feel comfortable you may leave the stationary surgery. Since the transplanted fat cells are living cells and must be rested, especially within the first 2 weeks, I recommend avoiding jumping and bouncing sports. During the first 24-48 hours you will notice moderate swelling, bruising (especially at the site of withdrawal), slight pain and minimal discomfort. It is normal that you will need weak painkillers. Most patients rest on the first day after the operation, read, watch television and go for short walks. After 48 hours you will be able to shower normally with "waterproof bandages".
If you have a job where you do not have to do heavy physical work, you can probably start working again from the third or fourth day after the operation.
After about one month, the majority of patients feel "normal" again. Slight bruising and possible swelling will have largely disappeared. Your breast will still take its "final" position in the coming months and will lose that last bit of swelling, but after a month most women report feeling "normal" again. In week 6-8 you may resume all your usual sports activities, with the exception of competitive sportswomen where the chest muscles are used more intensively. Of course, these times are only an approximate experience and not a must. Your body will take as much time as it needs.
The control after 3 months shows how much fat your body can "heal" and how much is broken down. If you are satisfied with the volume, the treatment is completed, if the volume is still too small, you are welcome to make a second appointment.
If you decide to undergo surgery it is important that you are well informed. Even if surgery is a frequently routine in my office I am aware that my patients might undergo surgery only once a lifetime. I will inform you in detail about necessary precautions before your planned surgery and all pros and cons. You will have the possibility to see before and after pictures similar procedures to let you know what to expect. During the examination and documentation you can communicate your ideas and wishes so we can find a perfect solution.
Frequently asked questions
How much of the fat remains in the injected region?
Fat grafting ensures very natural results. However, not all of the transplanted fat remains in place. A part is broken down and digested by your body in the first 3 months. So it is possible that during this time the desired volume is reduced a little bit. To prevent this I use a special method of "enrichment". Here I add a part of your previously drawn blood (PRP), after processing the fat. This enrichment with PRP allows me to achieve a significantly higher healing rate of the fat to be transplanted.
Where is the fat taken from?
Autologous fat can be taken from all parts of the body where there is enough. As a rule, the inner thighs or the lower abdomen are very well suited for this.
How much fat is taken?
For a fat grafting in the facial area one needs little fat, so that the region from which we help ourselves does not really become slimmer. Breast augmentation with autologous fat requires a "relatively" large amount of fat per side, so that operations are comparable to aesthetic liposuction. This means that two operations are performed simultaneously, liposuction and fat grafting.
When can I do sports again?
After fat grafting, the fat needs some rest. Jumping sports or a lot of pressure should be avoided, especially in the first 2 weeks after the operation.